Here at
Aces Casino
Entertainment
(Ed. Note: You know -- The top orange county casino night party company on the west coast, bar none)
, we've always looked at the making of the Aces Casino Blog as a work in perpetual motion -- A place to discuss everything from the latest in
orange county casino party
games, to dumb YouTube vids, to anything and everything under the sun that we feel needs the
Aces Casino
"light of day" brightly shined upon it.
In other words, our tendency to lean towards our "professional irreverence" mantra plastered upon us by none other than the
O. C. Register
, when they lauded us as the best casino party company in our industry. High praise for 127 crazy staff members that found a job they loved, that isn't work.
But, back to the blog.
The Blog staff is always looking on the internet for things that they can forward to the thousands of loyal
Aces Casino Blog
subscribers
(Ed. Note: Ummm, what?)
, and would consistently find things that they thought that, although it had nothing to do with our company, were interesting, just the same.
Leave it to the Blog staff to accidentally find yet another theme to discuss (exploit?) here. Here's a look at how they think: A couple of years ago, they wanted to be given the week off after coming up with the theme, "
Aces Casino
College of Casino Game Knowledge."
(Ed. Note: Yeah, right. Back to work.)
Finally, this crew of frustrated Shakespeare Wanna-Be's were hit with the bolt of lightning - Let's package all these random internet stories, and write about them! Hence, we now have our "3 Things" section.
Brilliant. Well, maybe not BRILLIANT, but it'll pass.
To that end, we've dedicated all of our Aces Casino Blog entries for the month of May to the latest "3 Things" creation submitted by our Aces Casino Blog staff -- Hope you've enjoyed these lil' ditties! If you missed any, just check out the Aces Casino Blog archives. They're actually pretty cool.
OK, here's Part Seven of "Three Things That We Found On The Internet This Week / Month / Year!" Coming up In our next
Aces Casino Blog
post, we do what we do best -- We'll be giving our readers the chance to try out some of the many games featured in the casinos of Las Vegas - It's our popular "Game Trainer" Series. OK, let's get back to our last "3 Things" post of the month!
#1 -- The World's Largest Race and Sports Book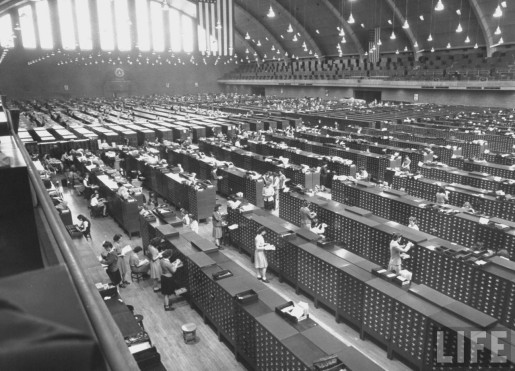 "The Chargers are only 8-1 to win the Super Bowl? What a rip-off!"
No, It's not the old Stardust Race And Sports Book...Actually, this pic from the archives of the "Life Magazine" photo department (circa 1943) is a pan shot of the FBI's Fingerprint Factory." It was an 8,000 square foot facility located at the National Guard Armory in Washington, D.C. ("8-1 on the Chargers? Check that guy's fingerprints, that's robbery.")
#2 -- The "Wheel Of Fortune of Drinking Games"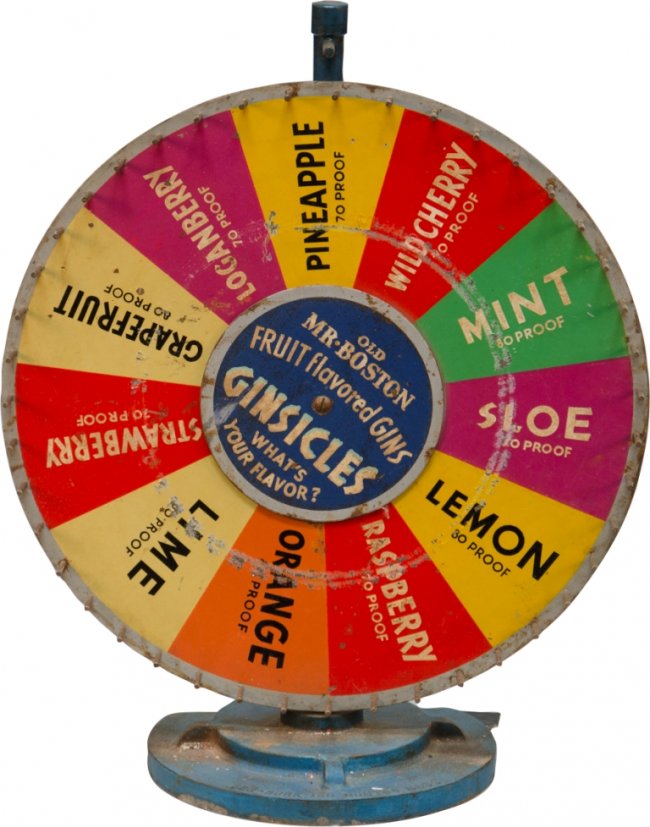 Ewww.... Grapefruit?" That's a Zonk.
"Old Mr. Boston Fruit-Flavored Gins – Ginsicles – What's Your Flavor," a marketing gimmick for the bygone distillery, Old Mr. Boston, also famous for their bartender's guide, first published in 1935 and became known to both professional and home bartenders as the "Bible of Booze."
#3 -- A company that builds "secret hidden rooms" in your home
OK, so who's NOT interested in THIS?
That one speaks for itself, check it out..... Oh, yes, this site has had Five-Point-Four MILLION views to date. Yeah, I'm smelling a possible business model here.
Well, that's all for now when it comes to our "findings." Next up - Game trainers, starting with Blackjack on Thursday. Practice up, we'll see you then!