Here at
Aces Casino
Entertainment, we just LOVE games - All kinds of games, from the traditional casino games that can be found in just about any reputable Las Vegas-based casino, to the various card and board games found at your local card shop and department store. Bottom line -- When you're the top
Orange county casino party
company on the west coast, and the word "entertainment" is in your name, you had best know the Las Vegas gaming business.
And, without question, we DO.
(Ed. Note: They love YouTube, too, but that's another story.)
The best news of all in this shameless brag from the
Aces Casino
"Ministers of Propaganda" is that we ALSO love to SHARE our good fortune with our many clients up and down the California coast. That's why our Aces Blog, A.K.a. the "Parakeet Paper," is such a useful tool -- We can interact not only with our many on-site
orange county casino party
clients at one of our many live fundraising and private party events, but also with people that find us right here on our blog.
So, to that end, the team at
Aces Casino Entertainment
have decreed that the month of May this year will be known as "Let's Play Games" month here on the blog. Every Monday and Thursday here on the blog this month, we'll post a great link to one of the many fine Las Vegas-style casino game trainers for our fans to play with and try out. Take one of our many game trainers for a spin, and see if you like the games, without the sting of playing for real money.
That having been said, It's time for us to wrap up our "Let's Play Games" training series with our last entrant into the "casino practice" genre -- Video Poker. Before you begin, you SHOULD check out just what machines to look for when it comes to these "quarter-eaters," ans we suggest "The Wizard of Vegas" might be a good place to begin your quest. Just sayin'.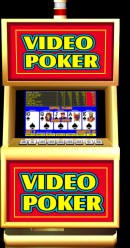 Video Poker!
Well, my friends, that's all for another edition of the Aces Casino Blog "Game Trainers." We hope you liked taking all of the games for a free test-drive. Next up on the parakeet paper, we move into June, which means It's time for our favorite subjects here on the Aces Casino Blog -- The up-and-coming "New Casino Games" Blog Series. It starts on Monday, June 2nd, so come on back and we'll see if any of the latest new ideas in table games tickles your fancies. We'll see you on Monday!

(Ed. Note: P.S. -- As of today, the SkyVue WebCam is still up. Those e-mail entries with today's date or earlier are out. Remember, only one entry per e-mail address, you internet gaming cheaters!)