When you're the top
Orange County casino party
in southern California, and you're known for your irreverent spin on all things "blog" in the casino party industry that we love so much, it can be tough to spin the Blog wheel in the other direction. Fortunately, the Blog staff here at
Aces Casino
has no sense of direction, so, to that end, we thought we'd discuss a few of the semi-recent happenings that have made news in our favorite city; Some good, and some not-so-good. We'll call this latest effort in our parakeet paper-blog, "The Good, the Bad, and the Ugly."
The Good -- Two New "Wheels"
You may have heard about the latest craze that's getting ready to hit Las Vegas by the end of this year. They're Sin City's newest attractions -- The Observation Wheels are coming! I know -- Not one, but TWO! Wheel #1, known as "The High Roller," is set to make it's appearance in late 2013 down in the new Caesars Entertainment open-air retail, dining and entertainment district located "on the 50-yard-line of the Las Vegas Strip." You'll find more info about this soon-to-be tallest observation wheel in the world when you follow this "
Linq
." (Ed. Note: Oh, Isn't that cute.)
The "Linq," and that big Ferris Wheel behind the Flamingo.
As if that wasn't cool enough, there's still ANOTHER wheel that's taking shape south of the Caesars Entertainment Complex. This one's situated across from the currently-named Mandalay Bay Hotel and Casino, and It's name is one that just SOUNDS "Vegas" -- The "SkyVue," part and parcel of the new SkyVue development corporation. Here's a comparison of the construction sites of these two behemoths, the Linq and the SkyVue.....
The High Roller -- Looks like it's moving along nicely.
SkyVue -- Not much to look at, yet.
It appears that construction at SkyVue has slowed considerably since concrete first hit the job site back in mid-2012. "Insiders" that represent SkyVue tell us that there's a good reason for this -- You see, the High Roller is a
CABLE
wheel, while SkyVue is a
STEEL
wheel. Oh, well, now it makes perfect sense.
(Ed. Note: NOT.)
Hey, speaking of stalled construction sites....
The Bad -- Echelon Place
This one still irks me. Echelon Place was the Boyd Group's multi-million dollar hotel complex slated to open about four years ago on the Las Vegas Strip property that formerly belonged to the old Stardust Hotel. I loved the Stardust. Stayed there EVERY time I was in Las Vegas, which was a LOT. Oh, but Echelon Place was going to be beautiful grand, the jewel of Sin City. Uh-huh...
How Echelon looked in 2008...
How it looks today.
Hmmph. I love the recent discussions among the Clark County politicians, who have suggested that covering the Echelon eyesore with a tarp, or landscaping of some sort, might make things seem better out at the old Stardust site. Oh, yeah, that'll fix the problem. I guess it's too late to dig all of the old parts of the Stardust out of the trash, and put it all back together. Too bad.... I'm starting to think this Echelon thingy ain't EVER gonna happen.
The Ugly -- The Shooting on the Strip
Last week, an unspeakable act of violence occurred on the Strip that defies logic....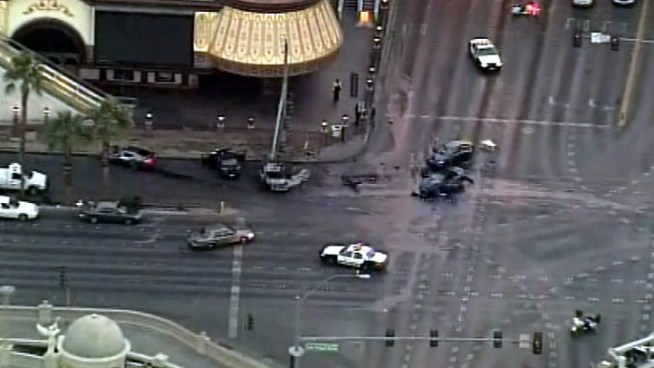 The scene of the crime.
Three people lost their lives when some argument over at the Aria Hotel's valet parking area blossomed into someone in a black Range Rover decided to open fire on a car driving down the Strip at 4am over this dumb argument. Sometimes, stupidity reigns supreme in our society, because if some dope figured that he could get away with this horrible act of random violence and not be seen by one of the 50,000 security cameras that blanket the entire city of Las Vegas, he HAS to be stupid. They'll find him and his entourage, mark our words. All in all, it's just sad that things like this take place over dumb arguments about hip-hop, rap, or whatever. So incredibly meaningless....
That's all for today, kiddies. Sorry for the downer at the end. We pray for all involved in that dealy rampage in Las Vegas, and condolences to all those families that lost loved ones over this senseless act. We'll see you next time with our usual brand of irreverent drivel. Have a good weekend, and we'll see you next time!