When you work for the top
orange county casino party
company in SoCal (or
Aces Casino
for short), you find out that there are a few nice lil' "perks" that go with the job. Right off the top, there's "perk #1" -- Sometimes, you have to travel to Las Vegas for something we'll liberally call a "business trip."
(Ed. Note: Translation - The company needed new playing cards. Yeah, BIG purchase, we sure needed to send out two reps to pick up those. Slackers.)
So, after spending all of 20 minutes arranging for our new casino equipment to be paid for and delivered, we set out to find out what to do with the other 3 days of the trip. Usually, this means finding games out in Sin City that we're not too familiar with, and giving them a test-run. On this particular trip, that "test-run" turned out to be on a game called "Super Fun 21." We found it right at state line at the one-and-only "
Whiskey Pete's
Saloon and Casino," a building that I hadn't visited since the first Bush was president.
First impressions of "
Whiskey Pete's
" since the last time I visited --
1. The "Bonnie and Clyde Death Car" is still there, sitting right next to a car that is reported to have been driven by "Dutch" Schultz. Pretty soon, "Pete's" is going to be a parking lot of infamous vehicles.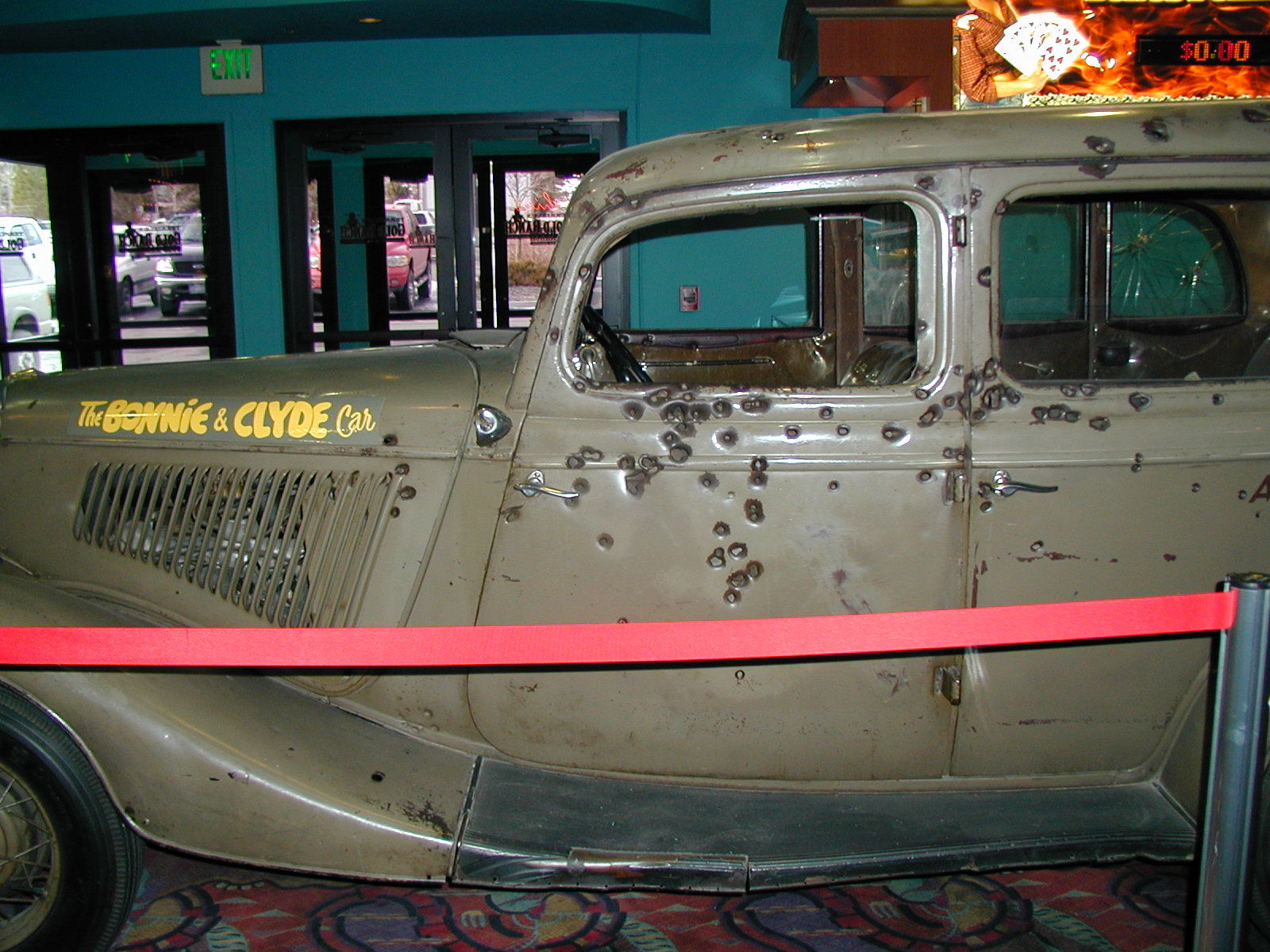 No wonder the law found 'em. Their name was on the hood.
2. The parking lot was JAMMED on a Tuesday night at about 10pm, but there were literally 40 people in TOTAL floating around in this casino and coffee shop. I mean, we had to park farther away from this hole-in-the-wall than EVER, but the place was BARREN of visitors. The answer to this riddle was supplied to us by Leo (the Waiter in the coffee shop/restaurant) who told us that all of the construction crew members working on "the Solar Plant" were staying there while they were out here working on this job. We'll have more on that in a later blog, we promise.
3. The Craps table was empty, with nary a dealer, floorman or boxman in sight.
And THAT'S why we ended up sauntering over to the table marked, "Super Fun 21."
Here's a rundown on what makes "Super Fun 21" so super-fun. The first thing we should mention is that a natural blackjack (except for a two-card 21 in diamonds?) pays even money. The diamond blackjack pays 2-to-1. Here's the rest of the rules....
Rules of "Super Fun 21"
The game is with one, two, or six decks.
Dealer usually hits a soft 17.
Player may double after a split.
Player may resplit to up to four hands, including aces.
Player may hit and double down to split aces.
Player may double on any number of cards.
Player may take late surrender on any number of cards.
Player may surrender half of total bet after doubling, what is called "Double Down Rescue" in Spanish 21. (Ahh, si'.)
A player hand totaling 20 or less, consisting of 6 cards or more, except after doubling, automatically wins. (Oooh, a six-card Charlie!)
A player hand of 21 points, consisting of 5 cards or more, except after doubling, pays 2 to 1 instantly. (OK, THAT'S fun.)
A player blackjack always wins (I like THAT.)
I'm guessing the house edge is in the 1.2% range when you factor in all of this "Super Fun" stuff, but don't hold me to that. We ended up losing a grand total of $5 for our session of play, so 1.2 looks about right. Bottom line -- It's not a lethal game, and the liberal splitting / doubling rules might fit some players' game just fine. Take it from this
orange county casino night
party propagandist - Super Fun 21 is worth a look.
Aces Casino
official rating for Super Fun 21 -- 3 1/2 stars (out of 5)
It may LOOK regular, but it's really "Super Fun."
Oh, and the Ultimate Texas Hold-'Em tease in the heading of our blog this morning? Well, for that, you'll have to wait until tomorrow. Our "casino equipment" just arrived, and I'll have to sign for it.
(Ed. Note: Oh, brother. That means it's lunch time, you're not fooling anybody.)
We'll be back on Wednesday with a special "Fourth of July" edition of the ACB (
Aces Casino
Blog for short), then, next week, we'll have more from our Vegas visit, including that Ultimate Texas Hold-'Em story. From all of us here at
Aces Casino
, southern California's top
orange county casino party
company, we'll see you then!