Guilty as charged.
That's what we tell our many clients who tell us after they've visited the offices of
Aces Casino
, the
Orange County casino party
leader, that they've never seen anything like the fun atmosphere and camaraderie that exists inside the Aces
casino night party
complex. The
Orange County Register
labeled us as "Professionally Irreverent," and
Card Player
Magazine called us "Pixar South."
(Sigh) Yes, there's no one else quite like
Aces Casino
. Every year, a new batch of truly wonderful clients discover the worst-kept secret in the
orange county casino night
business. Guilty as charged, we're good at what we do, AND we're a lot of fun.
When you ask the Aces team just what makes them different, they'll usually tell you that it's BECAUSE they're different in the first place. Every January, the
Aces Casino
management takes the top dealers and staff out for a day of total fun, away from the tables and events. six months ago, the Aces crew was taken to K-1 Speed in Orange County, where they competed in what is now the First Annual "
Aces Casino
500" Indoor Go-Kart Race. (Yes, the building is still standing, AFTER they left.) You can find the link to the video that caught all the 2011 action on the Blog's vid page.
Not too shabby for a company whose motto is, "This Beats Working."
When you have an
Orange county casino night party
company with a motto like that, you KNOW you're leaving the wallflowers at home. "Eclectic" should be mentioned in the business name. And, to that end, this Friday's blog takes a look at the top vote-getters from our staff when it comes to the best new and different TV shows currently making the rounds on the satellite and cable systems on the dial.
So, without further fanfare, here are the top 3 new TV shows that the Aces Crew, in their words, "Just can't turn off, once it's on...."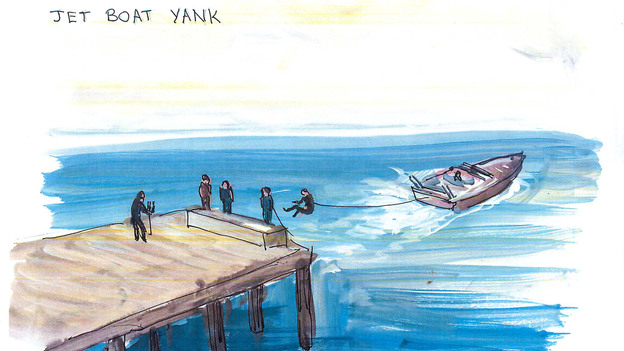 Here's a little hint as who's #1.
#3 --
Hardcore Pawn
Those of you that know the Aces Casino staff know that we LOVE Pawn Stars, the History Channel show o/o/Las Vegas, with Rick, the Old Man, Hoss, and the infamous Chumlee. That's why it surprised me when I started hearing about "that other Pawn Shop show." Got a chance to check THIS show out, over on truTV.
Whoa.
Yeah, compared to the other aforementioned Pawn Shop show, this one IS "Hardcore." The show's based out of the Pawn Shop located in the "8 Mile" district in Detroit. It's got a little bit too much drama coming from the owner and staff for my taste, but when it's on the TV at the
Aces Casino
offices, no one EVER turns it off. Three stars, we definitely recommend Les Gold and his hardcore pawn shop show - Check it out.
#2 -- Storage Hunters
Boy, if imitation isn't the sincerest form of flattery, I guess nothing IS. We used to get a little bent when we'd find rival casino party companies stealing our ideas, until we figured out that the thefts were ultimately good for the industry as a whole. It looks to us like "Storage Hunters," a knock-off of the wildly popular "Storage WARS" TV show, has hit the airwaves. If I'm not mistaken, this one is ANOTHER truTV idea-theft, but it's pretty good, too.
Yeah, pretty good. Not great, but pretty good.
I've only seen two shows, but both of them were about the same. There appears to be one main auction bid team o/o/California that goes anywhere to bid on a certain auction guy's offerings. I do have to say that the storage units on THIS show seem to be STUFFED with goodies, including one show that had a 1936 Mills "War Eagle" slot machine. Damn, I always wanted one of those.
Some of the verbal give-and-take between some of the bidders looks a little forced, but the show has that "hardcore-ish" feeling to it. I'll check it out some more. Two stars.
#1 --
101 Ways to Leave a Game Show
Oh-My-GAWD. My INSTANT new favorite game show. I'm not going to ruin this one for you, except for the fact that when contestants get eliminated from THIS game show, I'm tellin' ya, THEY get ELIMINATED!
The last show I had the chance to take in looked like it was filmed out in the Irwindale rock quarry. You know, Al Davis' new stadium site. Anyway, one gal got knocked out of the game, and when she lost, they stuck her inside a metal cage and rolled her down what looked like a mile-long dirt-and-gravel road. Didn't look like a lot of fun to me.
Then, at the end of the game, when they're down to four players, three of the four contestants (as they're eliminated one-by-one) are dangled over a giant pool of water that looks like it's ten stories off the ground. You get the question wrong, and off the diving board you go. Walk the plank, me matey. Spa-lassssh. One of my sons signed me up to be a possible contestant on this show when it was first announced and were taking applications.
I'm guessing he doesn't like me very much.
Well, so much for our obvious lack of taste in television shows. Hey, sue me, the shows are all pretty entertaining, especially that #1 show. Take if from the
orange county casino night
party kingpins - If it's goofy, it's for
Aces Casino
.
Next Tuesday, we wander back into the
Aces Casino
"College of Casino Game Knowledge" with a closer look and 10-question quiz on the game of Pai-Gow Poker. Bring your textbooks, and we'll see you next week!