It's true that
Aces Casino
, being the "virtual"
orange county casino party
company that we are, gets a lot of questions at each and every event we host that have something to do with the REAL casinos, specifically, the ones in Las Vegas, Nevada. After all, what better time is there to ask questions about "Vegas" than playing the games they PLAY in the city they call "Glitter Gulch" than actually being AROUND the casino games themselves? It kinda gets one in the "Vegas" mood, especially when the games WE provide are played with fake chips. (All the fun, without the "sting.")
Yes, questions abound about Las Vegas, but sometimes, those questions from our clients and their guests don't have anything to do with
Aces Casino
, SoCal's top
orange county casino night
company, OR the games that
Aces Casino
OR the Las Vegas casinos have to offer. Sometimes, people just ask questions like, "Hey, Aces, tell us about some of the places in Las Vegas that we don't know about, places that aren't necessarily gambling spots, but might be fun to visit."
Your wish is my command, my friends. Here's a list of three out-of-the-way, inexpensive (or free) places that we'd put on anyone's "Must-See" list when heading out to Las Vegas on your next visit. For most of these, you'll need a sense of 'nostalgia interest,' or else, you're in the wrong place...
#1 -- The Neon Museum (A.K.A. "The Neon Boneyard")
The Neon Museum
, located at 821 Las Vegas Blvd. North (Downtown Las Vegas), but, as you can tell by giving their web site linked
here
a quick perusal, they're NOT big on what we'd call, "surprise appearances." Translation: contact the working office at the museum as far in advance as possible (they recommend a two-week notice, most times) at 702-387-6366, and schedule an appointment. You WON'T be sorry.
Look, they even have Rosie O'Donnell's Shoes on display.
The staff over at the Neon Museum gives guided tours and provides mucho info on the history of some of the old neon signs that most of you might recognize from the past of Vegas. Not a lot of people even know the museum exists, but it's out there, and it's a must-see for ANYONE with interest in the past of this great city. Extra info -Ask about the locations of some of the other individual sites that the museum has used to display other pieces of the neon/sign history of Las Vegas. They're all OVER the city.
#2 -- The Sci-Fi Center
Located in the eclectic and low rent Commercial Center (large strip mall on the 900 block of East Sahara), The "
Sci Fi Center
" is run on the cheap, But they've done a lot with a little. They converted the spacious back room of a comic book shop into a small theater, complete with old theater chairs. And in the evenings on weekend days, they sell cheap tickets ($5 when I went) to watch classic science fiction television shows and movies, as well as the best and worst horror films ever made. It's fun, it's cheap and usually filled with welcoming staff and theatergoers.
If this type of film is your thing (and who DOESN'T like a campy horror classic every once in a while), the Sci-Fi Center is another of tyhe
Aces Casino
"Must-See" spots. You can link up to these guys and gals
here
, which is their Facebook page. Love Sci-Fi classics and comic books? This is the place for you, my friends. Don't miss it, courtesy of the top
Orange County casino party
company in SoCal. (We love being the
Los Angeles casino party
giant, too.)
#3 -- The Las Vegas Pinball Hall Of Fame
Now, I KNOW you haven't heard of THIS place. Come on, now...Who HASN'T played a few games of pinball, or better yet -- Who'd like to take another shot at one of the older pinball games that you USED to play, but can't find that particular game anywhere? I bet you thought that you were out of luck, that time had passed you by... Well, the staff here at
Aces Casino
is here to tell you that you're WRONG.
Not only is there a "Pinball Hall Of Fame," but ALL, and I mean ALL of the games in this pinball Mecca are operational, and available to play for pennies on the dollar. The PHOF is located at 1610 Tropicana Avenue in Vegas, right across from the Liberace Museum, and is a total throw-back to the past, and a blast for pinball addicts from ages 8 to 108. ALL of your old faves are there, it's "Pinball Nirvana."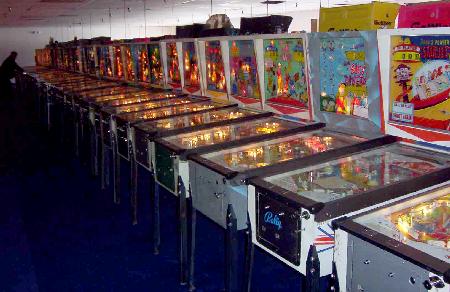 Gimme a roll of quarters, and get out of my way.
You can find the Pinball Hall Of Fame website
here
, and don't worry about bringing enough quarters - They'll gladly make change for you on site. Last time I was there, the hours were 11am-to-11pm, 7 days a week. Full-blown nostalgia is inside this 10,000 square foot homage to flipper-itis. Does this look like fun, or what? You're welcome, just another way that our
orange county casino party
company can give back to the masses.
As you can probably tell, we're all about games here at
Aces Casino
, as you can tell with this entry. That last one's our favorite, the Pinball museum. I've always wanted a place where I could go and touch the "artifacts." Try touching those mummies over at Bowers Museum and watch what happens. (I did. Long story, for some other blog.) Great Blog suggestion by the staff here to kick off the week -- We'll be back on Friday with another entry in the
Aces Casino
Blog, A.K.A. "The Parakeet Page." Have a good week, and we'll see you on Friday!