You only have to look at the sign above the main entrance of the offices of
Aces Casino
to know just how our team feels when it comes to "working" for this
Orange County casino night party
company, considered by many to be the top
casino party
company in the Southland. That's the sign that has the company's motto / mission statement emblazoned in big black letters...
"This Beats Working."
You can say THAT again. Ask anyone here at
Aces Casino
-- We DO have the greatest job in the world, and it shows. Each and every event has that mark of excellence, because we all love what we're doing. We're out helping people have a total blast. And, along the way, we've met more than our share of the top celebs in the entertainment industry, along with some of the most interesting people from ALL walks of life. Oh, the stories we could tell.
(Ed. Note: Could, and already HAVE. Check the Aces archives. There are a couple of doozies already printed here in this blog for all to see.)
Yes, it's been nice having the chance to rub elbows with the hoi-polloi of Hollywood, along with most of SoCal's major sports franchises' superstars. But, from where THIS
Orange County casino party
giant sits, our list of celebs that we've worked with is still missing a few important names. No problem -- We just haven't seen them at an event yet.
And, for the record, let it be said right this second -- We are NOT shy. We LOVE celebs, and they love us. We give them extra chips at the events...They LOVE extra chips! (Ed. Note: They NEED 'em, too. They're normally horrible players, except Vince Ferragamo. More on him some other time, in a future blog. GREAT guy.)
Now, as you can imagine, the Aces Casino "Must Meet" list changes more than Kim Kardashian changes shoes, so check with the
Orange County casino night party
kings for the latest updates. But, as things stand right now, here is the official
Aces Casino Entertainment
"Top 5 People We'd LOVE To Meet" at one of our upcoming casino events....
#5 -- Barry Weiss (From History Channel's "Storage Wars")
This is one of those people that you may not have heard of, if you haven't had the pleasure of seeing the reality show that Barry, one of the "5" main characters on this series, regularly appears on. "Storage Wars" revolves around the world of the "storage locker auction," which is something I had never explored before.
(Ed. Note: big deal. The author also has never explored the world of putting equipment away when an event is concluded, either.)
It seems that when a storage locker goes a certain amount of months without rental payments being made, the storage facility has the right to sell the contents of the delinquent locker in order to recoup the debt. "Storage Wars" shows what happens at these auctions, and what these winning bidders get when they get a chance to actually check out their recently acquired auction prize.
Barry Weiss is one of the regular bidders, and he is DEFINITELY a character. He's never at a loss for words, has a great sense of humor (he shows up at auctions with psychics and/or little people on stilts armed with night-vision goggles just to create a stir) , and likes to gamble on lockers that he thinks might hold some cherished collectible inside. Whereas the other main characters are definitely out for the money to be made in re-selling items won at auction, Barry's more interested in finding things that he'd just like to have.
"Hey, at least the psychics were well-endowed!"
He's just someone you have to talk to AND listen to... Barry's definitely a cool cat, and easily makes the
Aces Casino
"Top 5 List of People To Meet." We need you at one of our
Orange County casino party
events, Barry! First drink's on me! And, if you haven't seen Storage Wars yet, check it out. It's a great half-hour show.
#4 -- Tom Hanks
Now, seriously, who WOULDN'T want to meet Tom Hanks? I know this one's a slam dunk, but, hey,
Aces Casino
has seen more than it's share of celebrities at our
Los Angeles casino party
events (Joan Rivers, Steven Spielberg, Robert Wagner, Bruce Willis, and Mike Myers, to name just a few of the 100's we've seen), so why not put Tom Hanks on our wish list?
He did a bit recently on the
Jimmy Kimmel Show
that just floored us. LOVE Tom's sense of humor, and here's hoping that someday, we'll have the chance to cross with Tom at one of his favorite charity events, so we can let him know just how much he's entertained our
Aces Casino
crew for so many years with his TV shows and feature films. Call us, Tom, and let us know what charity you need us for!
#3 -- The Cast from "Pawn Stars"
Now, here's another reality show 'team' that makes our top 5. I mean, who HASN'T heard of these Pawn Shop guys from Las Vegas? Rick Harrison, "The Old Man," "Hoss" and "Chumlee" are BIG favorites around the Aces Casino offices, and rightly so. Their show is informative AND hilarious, and each one of the main characters that appear on screen have a ton of personality, and really mesh well together on screen.
We'll see you in Sin City, Gentlemen!
The good news with THIS listing in the Aces top 5 is the fact that, with an upcoming event date scheduled in late June of 2011 to coincide with the World Series of Poker, the
Aces Casino
team WILL be meeting the cast at a function in the shows' home town of Las Vegas a little less than three months from now! Don't worry, we'll definitely have the story AND pictures right here on the Blog when THAT happens. (Then, we'll have an opening on our list!)
#2 -- Arte Moreno, Owner of The Los Angeles Angels Of Anaheim
Here's a man that we've just missed connecting to in the past twelve months; Arte Moreno, the dynamic owner of the Angels, a self-made man that earned every dollar he's made over the years with his style and perseverance, starting with his venture into the outdoor billboard business. He parlayed that lucrative venture into an $8B sale of that business, and immediately invested in his first love - Baseball.
He bought into the Salt Lake Trappers minor league baseball team back in the '80's, and after turning THAT franchise into a cash-cow, he set his sights on a major league baseball team. He purchased the then-Anaheim Angels in 2003, right after the team had won it's first World Series title, and has turned the Angels into a perennial contender with his savvy business sense to go along with an easy-going personality. You can just tell he's a 'people' person, and he's one person we're dying to meet.
Go and look in the dictionary under the word, "success," and you'll see a picture of this gentleman, a class act, without question. Good luck with the Angels in 2011, Arte. Here's hoping we get the chance to meet up someday....
#1 -- Philip Rivers of the San Diego Chargers
Definitely our all-time favorite, and a man that we have yet to meet. Being a fan of the Chargers, it goes without saying that this All-Pro Charger QB might be at the top of the list, but Philip also has what the other people on our list have in common: He is who he is, and the real deal. Total class act, a rare commodity in the world of sports today.
No Bolts' fan will ever forget Rivers blowing out his knee during a 2007 victory over the Indianapolis Colts, then immediately going thru knee surgery on a Monday in order to PLAY against the New England Patriots in the AFC Championship game just six days later on a SUNDAY. He gives 100% every time he takes the field, and lets NOTHING get in the way of what he needs to do to succeed.
Without even knowing it, Philip Rivers taught us here at
Aces Casino
just what it means to be dedicated to your job, and to your team. When our company had a tough stretch during a rough economy back in 2009, we actually looked back at some of the people that we thought we could learn from people that ALSO had tough times and persevered. NONE of them shined brighter than Philip Rivers. He continues to shine in every way imaginable with the combination of a great, honest, down-home personality and a insatiable, white-hot will to win.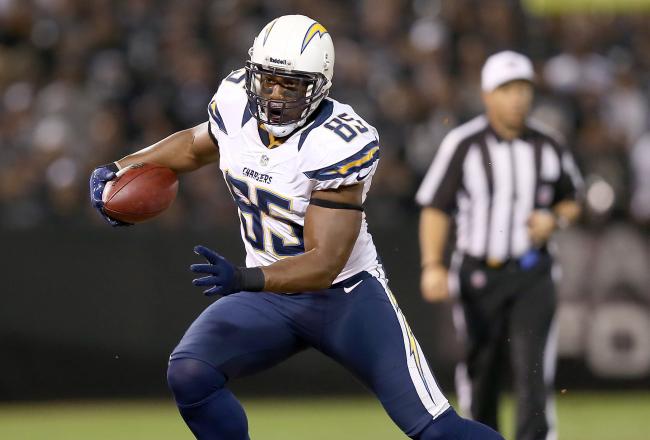 Just throw it to Antonio Gates, my friend...
Philip, thank you for all you've done to teach us what needs to be done in order to succeed against some pretty tough times. Hopefully, we'll get the chance to meet you someday and thank you for the lessons. Oh, and here's to you someday getting to that currently-elusive Super Bowl. Now, THAT'S a party we'd LOVE to attend!
Well, that's all for now. Some parting shots on this Monday morning......
Boy, we thought moving
Aces Casino
equipment into tough venues was hard work, but it's nothing like installing a lawn in the ol' back yard this past weekend. 50% rototiller, 40% steer manure, 10% laying the grass checkers into place, and 100% sore back, sore legs, and sore EVERYTHING. I'll take an
Orange County casino party
over lawn jockeying ANY time...... Butler makes the NCAA Hoops title game. If they beat UConn today, we'll win out futures bet worth about $1800; Then, we can go and buy some people to put the grass in FOR US next time...... Big weekend for the company starting this Friday night with a frat party at USC, followed by a Saturday morning trip to Bakersfield for a 24-table event later in the day. Who's buying the donuts? ....... Have a good week!